Date/Time
Date(s) - 21/04/2021-22/04/2021 • 09:00-16:00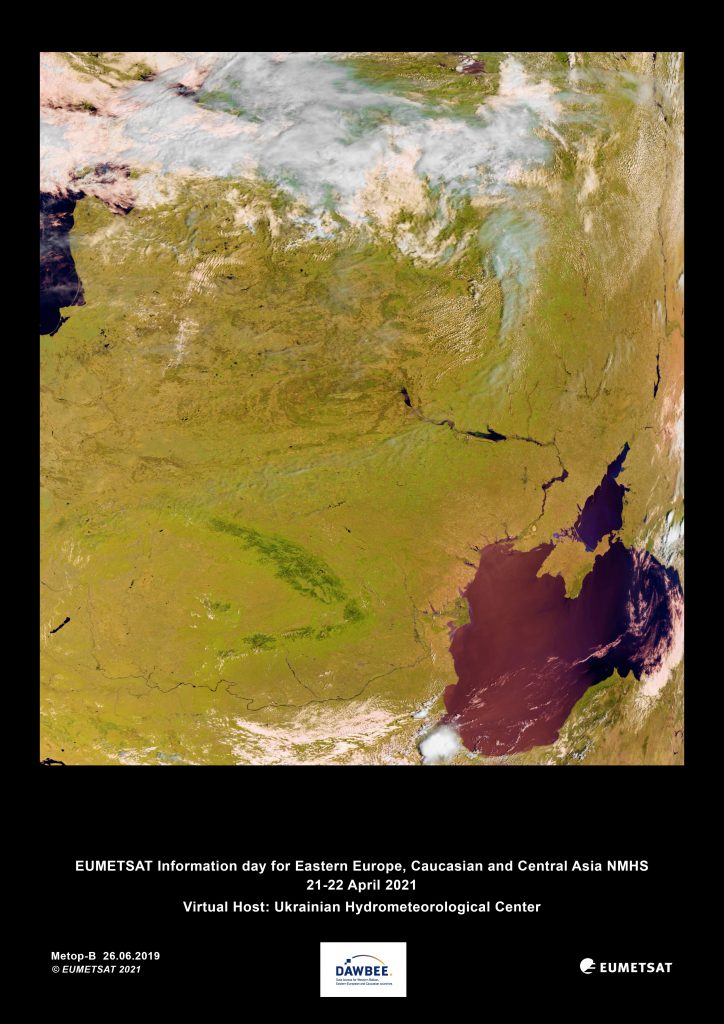 Zoom details
The meeting will take place virtually on Zoom.
The Zoom details will be available in due time.
The EUMETSAT Information day for Eastern Europe, Caucasi

an and Central Asia NMHS 

organised by EUMETSAT and the Ukrainian Hydrometeorological Center and the Ukrainian  
Hydrometeorological Institute, under the Ministry of Emergency Situations in Ukraine, 
will be 
held from 21 to 22 April 2021, virtually on Zoom (from 09:00 to 16:00 CEST on both days).
The main objective of the meeting is to provide information on the current status of EUMETSAT's satellite programmes as well as on our contribution to the EU Copernicus programme. This year a specific focus will be on the transition to the Meteosat Third Generation (MTG), which will replace MSG for the 0-degree service and will need an upgrade of the DAWBEE EUMETCast data reception and processing infrastructure.
As usual, the Information Day will provide the opportunity to gather the feedback on the use of  meteorological satellite data and to discuss subsequent activities. The participants will also address possible joint projects with the EU and WMO, with the aim of further supporting the operational access and use of EUMETSAT and Copernicus, data and products in your region.
The registration deadline is
10 April 2021.
The Agenda and presentations are available for download

HERE

.
Available presentations:
 Day 1 (21 April 2021):
 Day 2 (22 April 2021):
 Session 5: Expanding the cooperation
INFORMATION ON THE PRIVACY POLICY:
The details you submit as part of this registration will be used for the purpose of sending you emails and information pertaining to the EUMETSAT Information day for Eastern Europe, Caucasian and Central Asia NMHS 

or similar upcoming events.
Please read the following carefully to understand how EUMETSAT treats personal data received within the scope of registration for the 

EUMETSAT Information day for Eastern Europe, Caucasian and Central Asia NMHS

.
EUMETSAT is committed to protecting and respecting your privacy while all the while carrying out our obligations arising from the organisation of the meeting.
By submitting your personal data, you agree to have your personal data collected and further processed as described for the purposes detailed below, allowing EUMETSAT and organisations associated with the 

EUMETSAT Information day for Eastern Europe, Caucasian and Central Asia NMHS

 to contact you as required for the organisation and administration of the meeting.
Registration
Before sending the booking, you may print this page for your record.
Bookings are closed for this event.